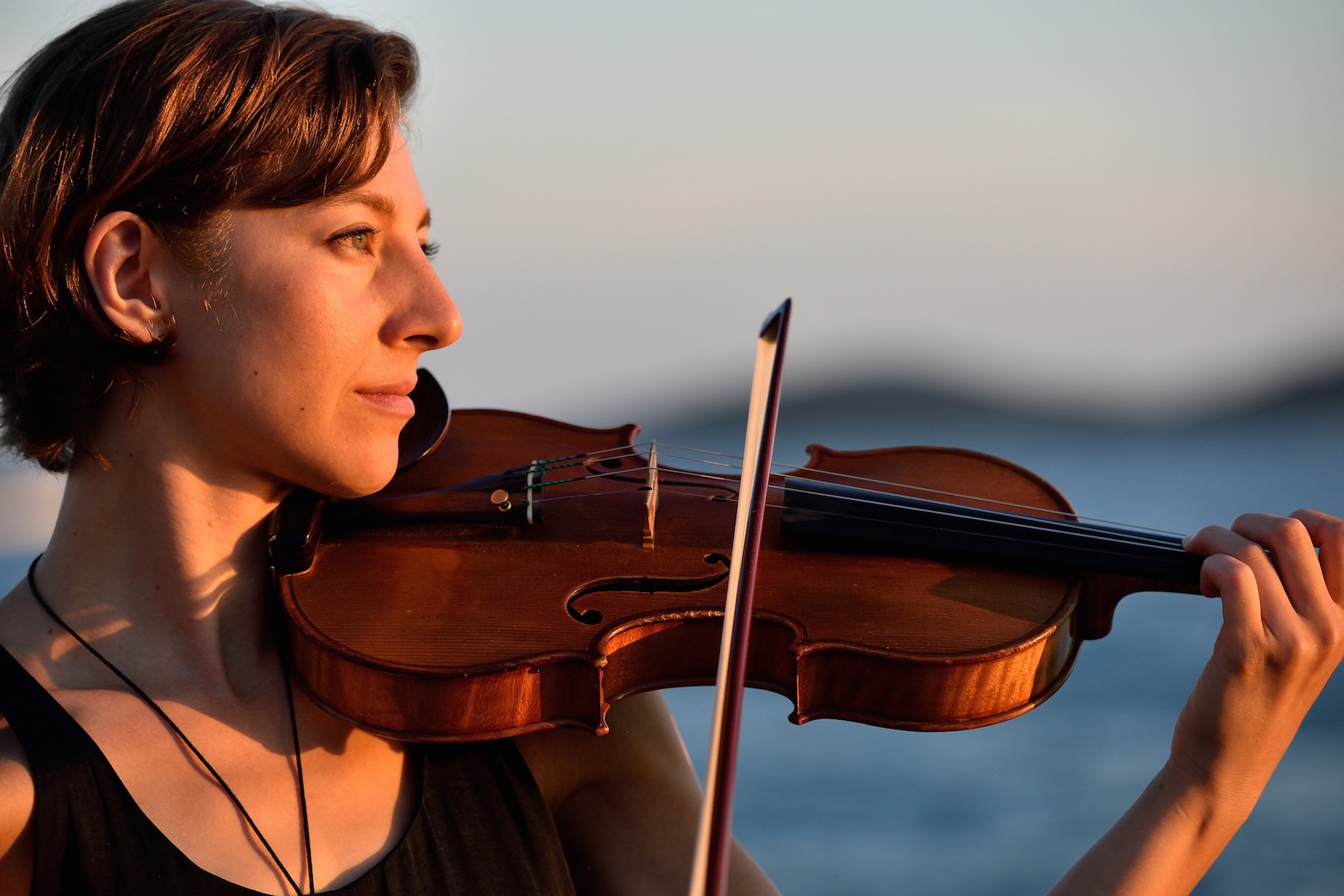 Yvette Cornelia Holzwarth is a violinist, vocalist, composer, and music educator based in Los Angeles. Her diverse musical interests expand beyond her classical background to include Eastern European folk, Arabic, Americana, experimental contemporary music, improvisation, and songwriting. She is delighted to be a part of Bridge to Everywhere, an ensemble that embraces this multiplicity.
As a violinist, Yvette has enjoyed working with a wide array of artists — including Kamasi Washington, Van Dyke Parks, Gaby Moreno, Brandon Coleman, Homayoun Shajarian, Carmen Cusack, Rade Šerbedžija, Tamara Obrovac, Dent May, Anenon, among others. She performs regularly in Eastern Europe as part of a duo with guitarist Miroslav Tadić. She has toured internationally (Egypt, Abu Dhabi, Oman) with LA-based Arabic orchestra MESTO. She is also a founding member of the non-traditional performer-composer collective: Desert Quill Quartet.
Residing in Los Angeles, she has recorded on numerous film scores as well as appeared on camera in film, TV, and commercial work. Her solo viola work can be heard in Season 2 of Patriot (Amazon Prime). She has also recorded for Glee (FOX), The Good Place (NBC), Veep (HBO), and Arrested Development (FOX).
As a composer, she is drawn to multidisciplinary collaboration. She has designed sound for theatre productions such as Antigonick and How Little I Know (original work) produced by the Scatterstate Theater in San Jose, CA; collaborated with choreographers at Heidi Duckler Dance Theater; co-written pieces with poets; and worked with filmmakers on creating musical scores for diverse film and video projects. She has also acted, played violin, and sung in theater productions with LA-based theater companies: Four Larks and Overtone Industries.
​
As a songwriter, Yvette self-releases original music under the moniker Yvette Cornelia. Her debut EP "Open It Up" (2013) was recently followed up by a full-length album "What Lies Ahead" (2019). This latest album features her 9-piece chamber folk and storytelling group. This group has appeared at the Troubadour, CalArts New Works Festival, and the Last Bookstore in downtown LA. Their work explores the cracks between chamber music, folk, jazz, and popular music.
In 2017-2018, Yvette curated an adventurous monthly chamber music series called Hear Sunday in collaboration with the arts nonprofit Clockshop in Frogtown, Los Angeles. She holds an M.F.A. in Performance and Composition from the California Institute of the Arts and a Bachelor's in American Literature from UCLA.